The Caravan & Camping Park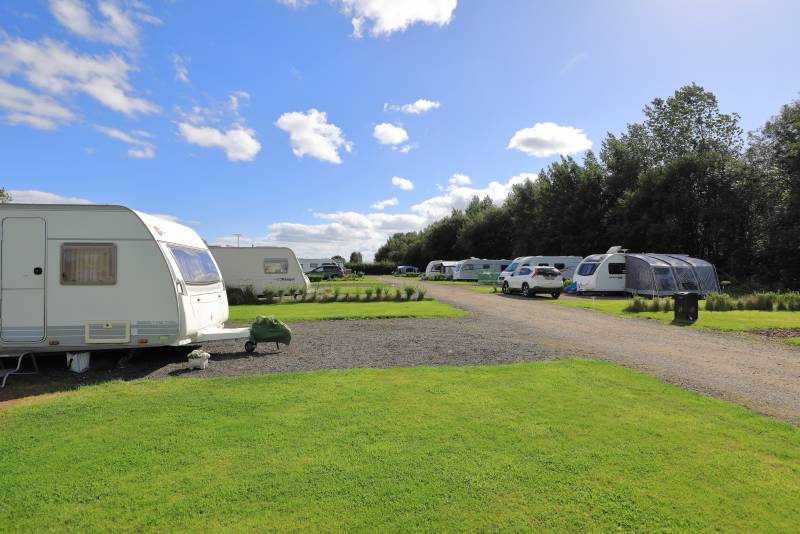 A Small Peaceful Touring Caravan and Camping Park with 25 Supersized hard standing pitches all with their own electrical hook up, situated in a quiet corner of the fishery and with easy access to the lakes.
About the Caravan & Camping Park
Built in 2014 the Caravan & Camping Park is situated in a quiet corner within The Oaks Lakes Fishery with a mature wood running along the North West side providing shelter and privacy from the fishing lakes, the North east side faces farmland and the Hambleton Hills.
Added in 2019 there is now a large modern heated shower and toilet block with separate Ladies, Gents and Disabled units, plus a covered wash up area.
All 25 pitches are Supersized hardstanding/ grass and include electrical hook up.
( Note : Onsite there are other toilet facilities near the main fishing car park and in the entrance to the Café and Tackle shop), there are hard gravel roads around the lakes and to the Caravan Park, with an easy accessible entrance from the main road. (Click here to see or print the Site Plan)
Park Rules
Adults Only
No Dogs
No Music, Radios or TV's to be played at a high levels.
Speed Limit of 5mph
NO FIRES
BBQs are to be lit in recognised containers on your pitch, they must be on a stand and not to be placed on the ground or grass.
Inappropriate behaviour will not be tolerated.
Litter must be placed in one of the bins and your pitch must be free from litter on departure.
The management reserves the right to remove any person or property who is in its opinion not suitable to use the site, or whose behaviour is considered to be detrimental to other guests.
Overview Of The Area
Just off the A19 between Easingwold and Thirsk sits the beautiful village of Sessay surrounded by farmland.
The Oaks Lakes is situated to the North end of the village and is screened with woodland and hedges, there are 10 fishing lakes used for many course fishing competitions and featured regularly in the leading angling magazines, however this isn't to put off beginners we welcome all abilities and have a number of pleasure fishing lakes for people who just want to turn up have have a go, you don't need to worry about baits as the helpful staff in the onsite Tackle shop will give you help and tips to get you started and have a range of products to suit everyone's budget/level.